Learn more about Caltrain Electrification or Caltrain service improvements by viewing the resources below.
Want to take a deeper dive into the project? Visit the Caltrain document library to find moreinformation on monthly progress reports, budgets, project schedule, quarterly presentations,
environmental documents.
GO TO LIBRARY
​
THE TRAIN IS COMING!
Stay up to date on the latest train developments and construction progress with our monthly e-newsletter.
Take a look at our Gallery page for more construction photos!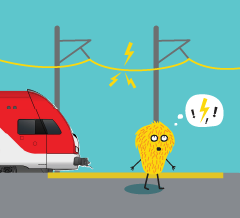 Learn about staying safe around the new electric overhead wires here.
Learn about Caltrain's history and how Caltrain Electrification is moving us towards an exciting future.