Electric Trains
Caltrain is purchasing new, high-performance electric trains to replace the current diesel locomotive trains as part of Caltrain Electrification. The electric trains will enhance the speed, capacity, safety, and comfort of Caltrain's commuter rail service while reducing emissions and improving air quality.
See how the the state-of-the-art electric trains look inside with an immersive virtual reality experience.
Manufacturing & Testing
---
From creating the car shells, to interior equipment installation and testing, it's exciting to see the progress on the trains! Check out the first electric train being tested at and above corridor speeds in Pueblo, Colorado in this video and visit the gallery to get an inside look into the progress made so far in bringing the new electric trains to life.
First Trainset Arrival
---
The first electric trainset has arrived at the Caltrain Corridor. Assembled in Salt Lake City, Utah, the train passed by a number of exciting landmarks and stunning regional scenery as it made its way home. In case you missed it, check out fun facts from the journey.
More electric trains are on their way. Together, the new electric train fleet and electrification infrastructure will undergo rigorous system testing before passenger service commences.
Explore New Caltrain Electric Trains
Caltrain is purchasing 19 new high-performance seven-car electric trainsets to replace the current diesel locomotive trains. This section highlights some of the exciting new features of the high-performance electric trains. Bookmark this page and visit frequently for updated information.
​
Enhanced Amenities
The new electric trains will be state-of-the art vehicles with many enhanced amenities over the current diesel fleet.
Plentiful Power Sources
The new trains will feature power sources at every fixed seat to ensure riders can stay connected and fully-charged throughout their ride.
Onboard Displays With Trip Information
Digital signage aboard the new trains will make it easier for riders to know their current location and which stations are coming up next.
Restrooms
There will be one ADA-compliant restroom per train. Caltrain worked with its Accessibility Advisory Committee to ensure the design of onboard restrooms is safe and comfortable. Each restroom will feature a baby-changing station.
Storage Spaces
Due to the cantilevered seat design, there will be more space under each seat to stow your belongings. The new trains will also feature overhead storage space for additional passenger belongings.
Seats
Comfortable, Modern Seats For A High-Tech Train


A typical passenger car layout will have two main levels with between 85 and 100 seats per car. There will be some flip seats, in addition to the regular fixed seats. Most seats will face one direction and if there are any seats facing each other, there will be a table in the middle.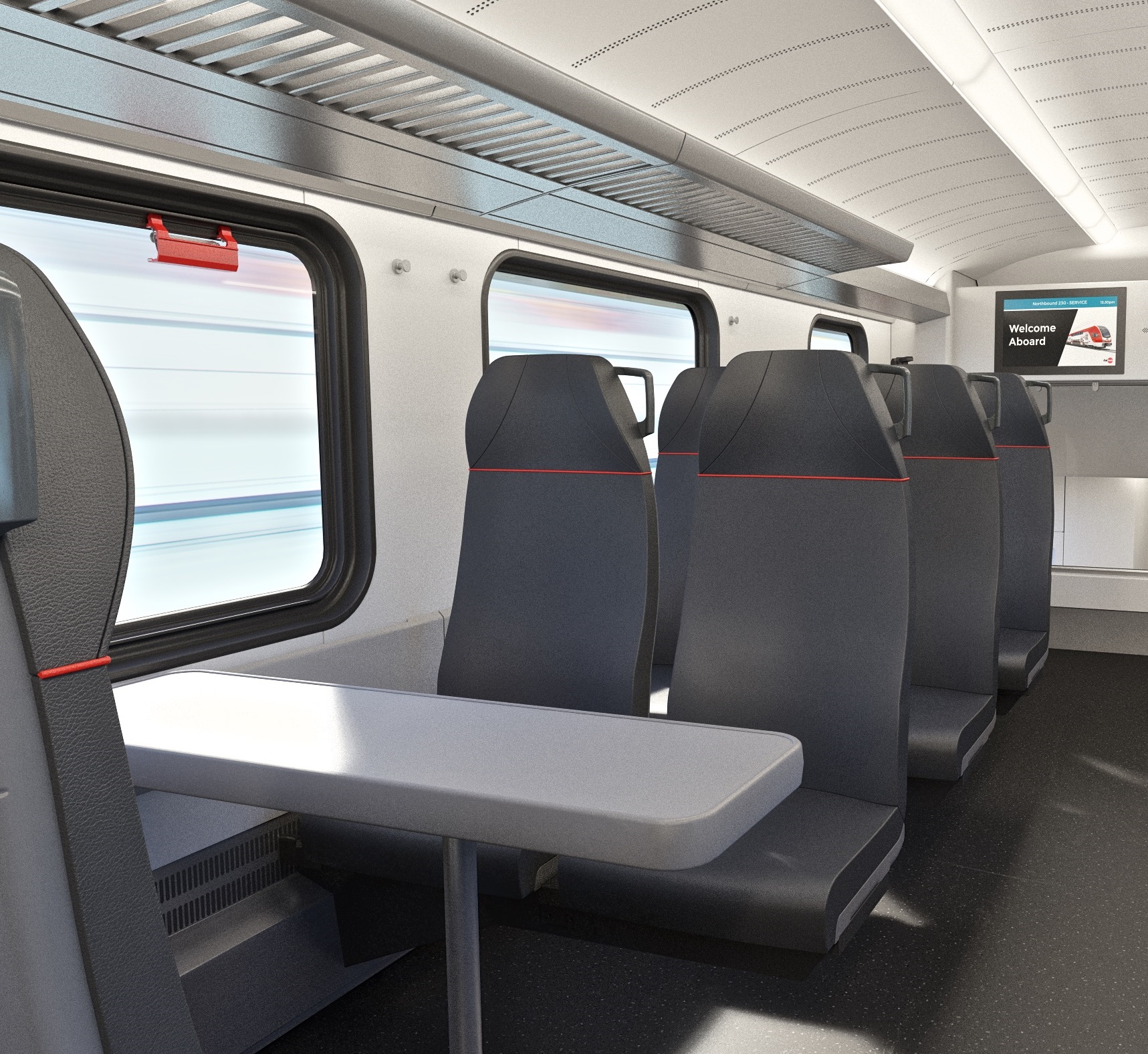 The new train seats are designed for maximum comfort, access and durability. Caltrain presented two color variations and invited riders to weigh in on which they liked best. Check out the gallery to see more renderings of the final seat design.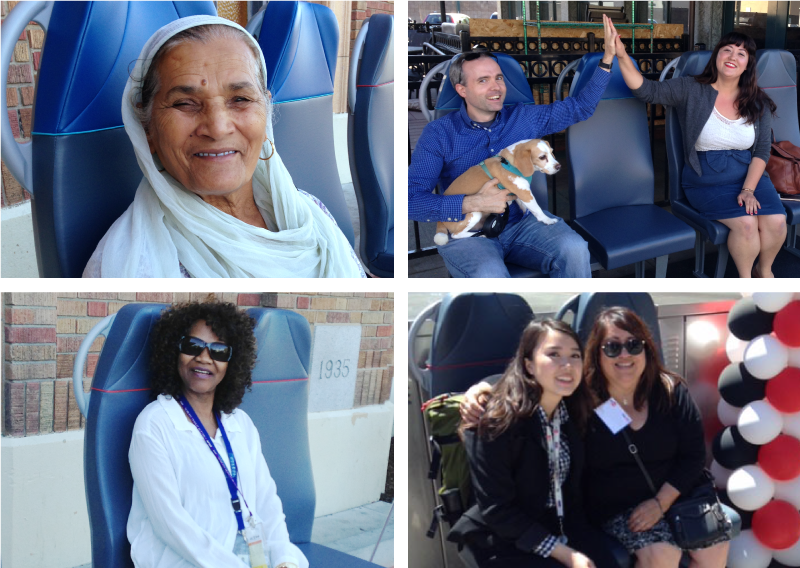 Caltrain conducted a robust outreach and education effort to give riders the opportunity to learn about and test out the new train seat design options. Riders were able to try out the seats at stations and view multiple renderings for each of the options online. Thousands of riders weighed in via in-station events and the online seat poll to choose the final design.
Bikes
Maximizing Bike Capacity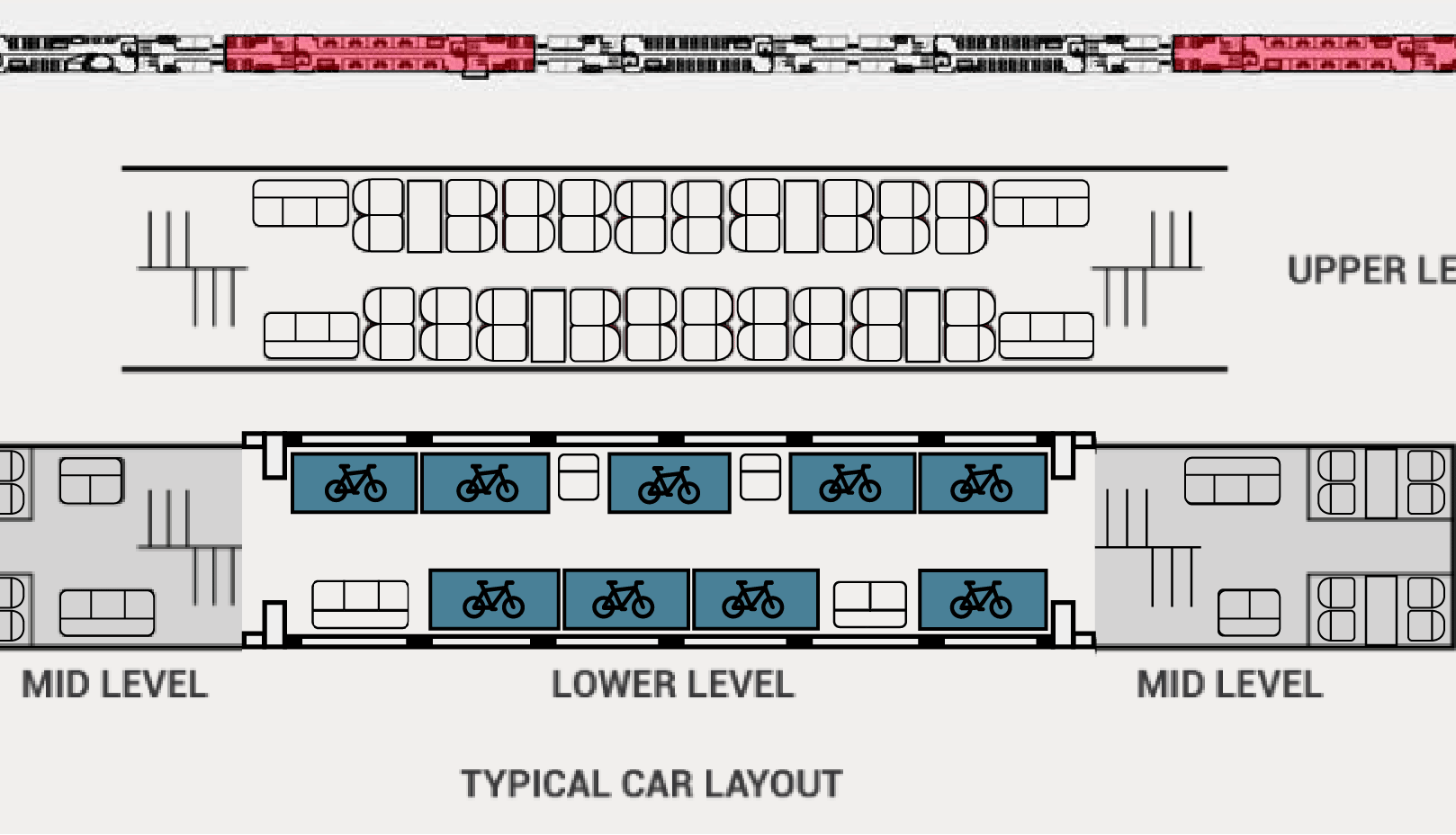 There will be two dedicated bike cars per seven-car trainset that will be well marked. Each bike car will have a lower, mid, and upper level, with bike storage on the lower level. Security cameras will be posted in each bike car to enhance security.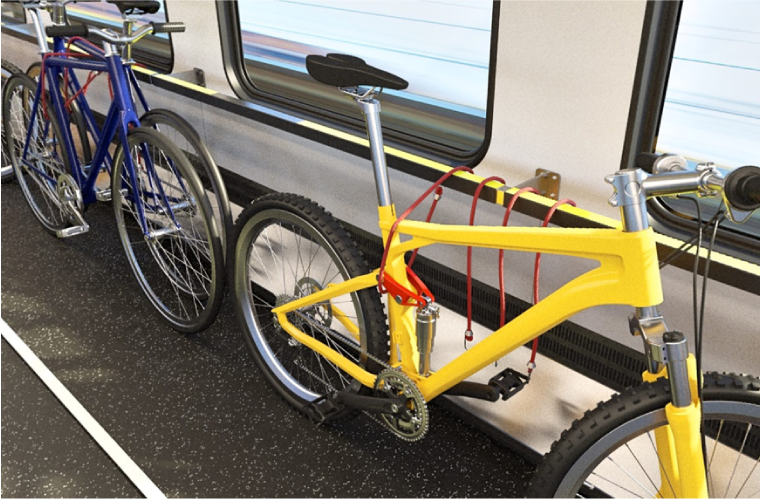 Rider engagement has been a key element helping to shape the design of the new electric train bike cars. From August 2017 through June 2019, Caltrain collected feedback through a variety of efforts to make the final determination. Input was received through an online poll; discussions with local bike advocacy groups; station outreach where riders could try out the bike car options; a bike car reconfiguration workshop with the Bicycle Advisory and Citizens Advisory Committees (BAC and CAC); comments though the website; social and local news media; and emails, phone calls, and in-person engagements.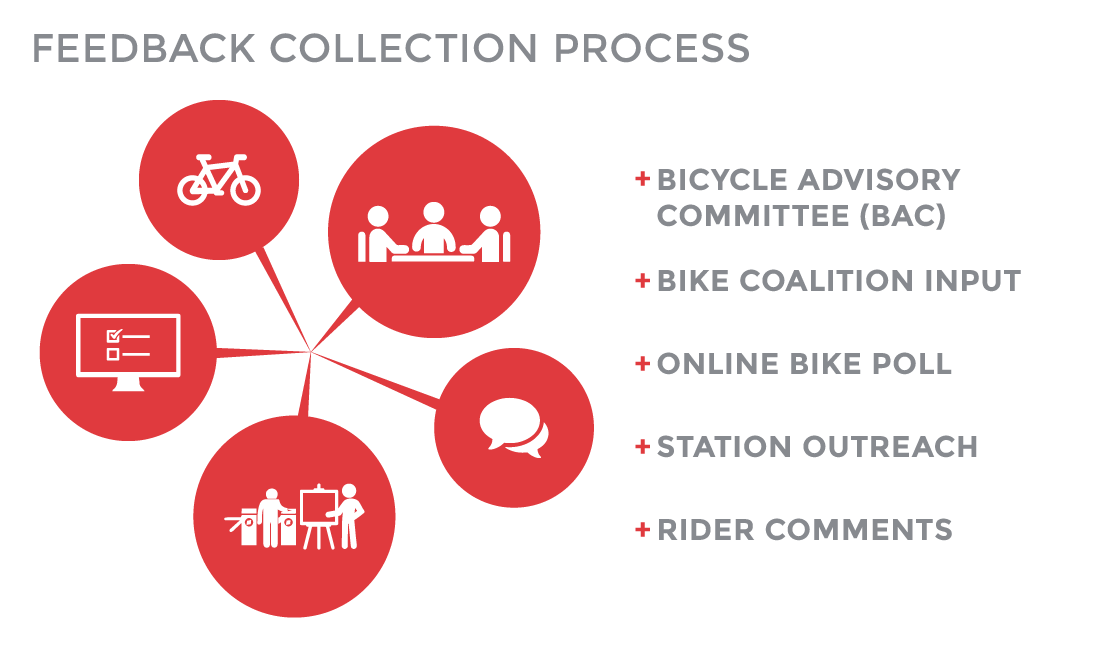 The 2017 poll found that two-thirds of respondents (66.2 percent) preferred the hybrid, wheel-holder option. However, written comments from some members of the public expressed concerns about the hybrid option, and the Caltrain BAC and the bicycle coalitions in San Francisco and Silicon Valley supported the stacking option. 
Since that time, Caltrain heard concerns about security and requests to have additional seats next to bikes on the electric trains. On April 17, 2019, Caltrain held a Joint CAC and BAC Workshop which included an interactive activity and robust discussion of possible reconfiguration options for these cars. Feedback from this workshop, along with general public input, survey results, project schedule, funding partners and CAC/BAC feedback, Business Plan information, and financial impacts and feasibility of the recommendations were considered and factored into the staff recommendation that was presented to the CAC and BAC in May.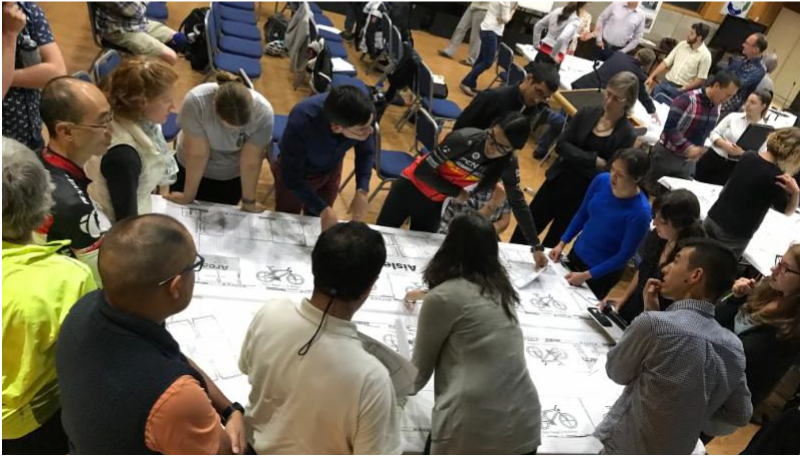 On June 6, 2019, the Board approved reconfiguring the electric train bike cars to add more seats. The electric trains will maintain 72 bike spaces in the two bike cars while increasing the number of seats to 14 total (original design was 6 seats total). The Board also approved spending at least $3.5 million towards bike station parking / micromobility improvements before the start of electrified service. In addition, Caltrain's bike security task force will continue to explore and implement possible improvements to the bike program. For more information about these efforts, visit www.caltrain.com/bike.

 
Exterior Design
Riders Choose Electric Train Exterior Design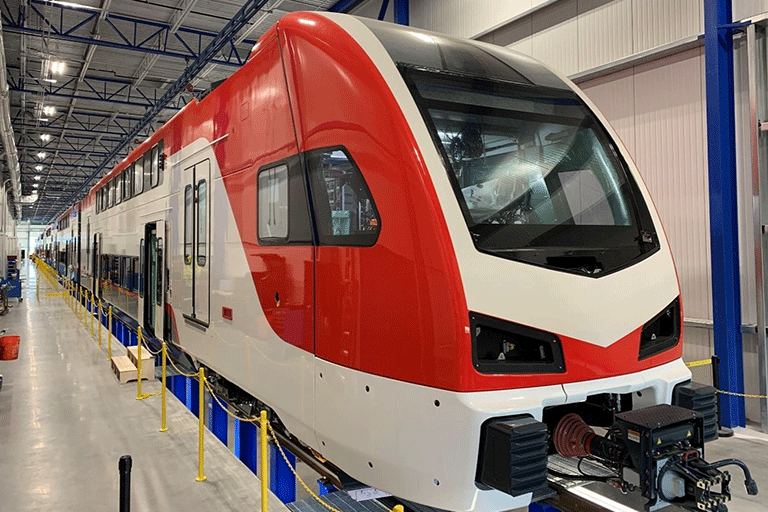 Part of the first trainset in the manufacturing facility test bay.
January 2020
When riders see the new electric trains running, many can take pride knowing they helped choose the design of the train exteriors. During May 2017, Caltrain promoted an online poll for riders to weigh in on four unique exterior design options for the new electric trains. During that time over 6,330 votes were received and a clear front-runner emerged. The voter's preferred design was selected for manufacturing.

 
Past, Present and Future.
In both service and design, the trains running along the Caltrain corridor have greatly evolved over the last 150 years. Check out the images below to learn a little more about their history.
Previous
Next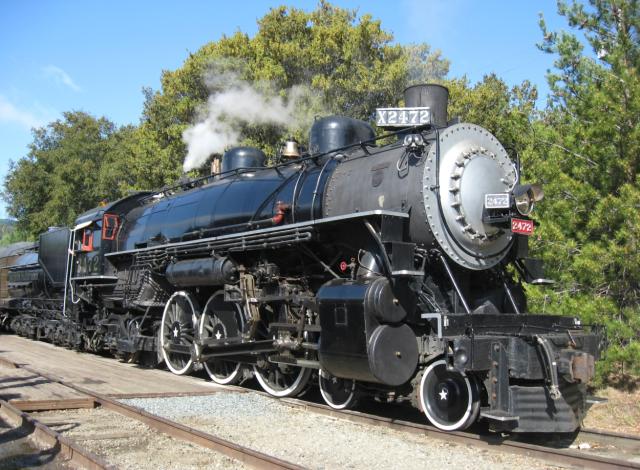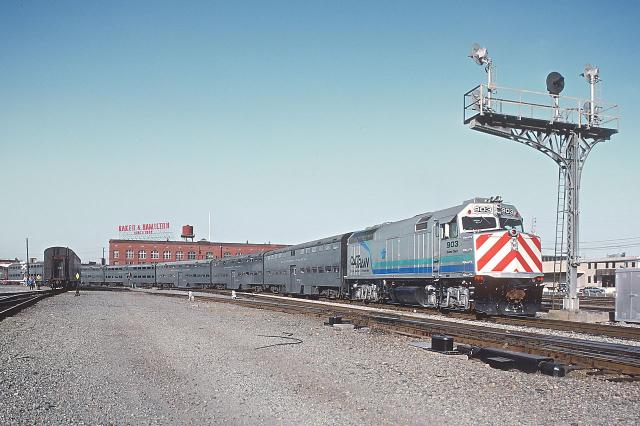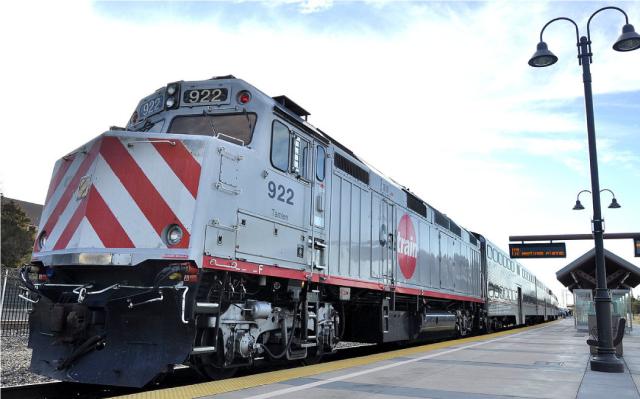 Delivery Plan
Initially, Caltrain will replace approximately 75 percent of the diesel fleet with new electric trains, which would operate between San Francisco and San Jose. Full replacement of the fleet with electric trains would occur at a future time when funding is identified and the remaining diesel trains reach the end of their service life.