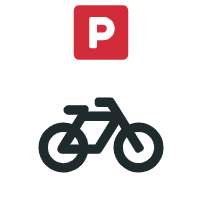 Caltrain currently offers a variety of bike parking options from full-service bike valet to e-lockers and bike racks. Learn what's available at the different stations and what Caltrain is doing to improve bike parking and access.
Current Facilities
Electronic Lockers
On-demand, eLockers are a secure place to leave your bike. Multiple people may use eLockers as available. More than 300 e-locker spaces are available at 21 Caltrain stations, with more installations coming soon. The standard rate is 5 cents per hour. The rate for night and weekend use at Caltrain-owned eLockers is 2 cents per hour.
How to Use eLockers
Step: Sign up for a BikeLink account at www.bikelink.org
Step: For ease of access, link your BikeLink account with Clipper
Step: Access an eLocker using your Clipper Card or a pre-paid BikeLink card (watch a video on how to use an e-locker)
Another option to access eLockers is he BikeLink app, which is now available from Google and Apple.
How do I get my free 100+ hours?
Once your BikeLink and Clipper accounts are linked, use any Caltrain-owned eLocker to receive your 100+ FREE hours.
---
Bike Valet
The Caltrain San Francisco bike valet is open. Free weekday valet bike parking is offered at the San Francisco Station. For more information on hours, overnight rates and special services such as bike repair, visit Bike Hub.
---
Shared Parking Garages
Self-park in a controlled-access, secure bike parking garage. Rates vary as service is offered by different vendors or cities. See which stations have shared parking garagesavailable.
---
Keyed Lockers
Caltrain is in the process of phasing out individually assigned keyed lockers in favor of on-demand electronic bicycle lockers. We are no longer accepting applications for keyed locker rentals.
---
Racks
Bicycle racks are located at all stations, except San Francisco, College Park and San Martin. For tips on how to lock a bike to minimize theft, visit the bike safety and security page. Do not lock your bike to railings, furniture, trees, poles or other fixed objects because it could impede access for others.
---
Improvements
Bike Parking Management Plan
In November 2017, the Caltrain Board adopted the Bicycle Parking Management Plan, which recommends a set of management and administrative reforms and implementation strategies to optimize the performance of Caltrain's bike parking system. Learn more
Implementation Update
Caltrain recently was awarded some funds for secure bike parking at stations, and in August 2018, Caltrain hired a full-time staff member dedicated to station access planning and the implementation of the Bike Parking Management Plan. Join the community to learn more.