Coronavirus (COVID-19) Advisory: While this announcement describes planned service adjustments, be advised that future rail operations and/or capital projects may continue to be impacted by COVID-19.
On May 16, 2020, Caltrain'sHillsdale Station in San Mateo temporarily closed as part of the 25th Ave Grade Separation Project. The new station will open on April 26, 2021. For more information on the station opening, visit www.caltrain.com/HillsdaleOpening.
During the closure, trains that normally stop at the Hillsdale Station now serve theBelmont Station instead. The timetable is available on the schedules page.
Belmont and Hillsdale Stations are both in Fare Zone 2, meaning applicable ticket prices will remain the same for paper / mobile tickets and Clipper card purchases.
Upon completion of construction, the Hillsdale Station will be relocated about one block north of its current location, between 28th and 31st Avenues. Thenew station will have an elevated center-boarding platform allowing for safer, more convenient pedestrian access.
What Hillsdale Station Passengers Need to Know
Driving:
If you drive to Caltrain, use the Belmont Station parking lot as it has sufficient capacity. Parking at the Belmont Station is free of charge until the Hillsdale Station reopens for service.
The Hillsdale Station parking lots are closed.
Free SamTrans Connection for Caltrain Riders
SamTrans Route ECRbus service is free between San Mateo and Belmont stations during the Hillsdale Station closure.
SamTrans Route 292bus service is free between Hillsdale Shopping Center and San Mateo Station during the Hillsdale Station closure.
SamTrans bus service is free on all routes (except FCX) for riders with the Caltrain Clipper Monthly Pass 2+ zones.
All SamTrans buses are ADA accessible.
Free Caltrain Shuttle Service (if available):
The existing freeBelmont/Hillsdale shuttleis operating throughout the closure during weekday morning and afternoon peak commute hours.
Updated information on all shuttles serving Caltrain stations is posted online at www.caltrain.com/shuttles.
Bikes:
18 bike racks at Belmont Station
16 bike eLockers at Belmont Station
SamTrans bus bike racks can hold up to three bikes
The free Belmont/Hillsdale shuttle can hold up to two bikes
Customers are advised to plan accordingly as the temporary station closure may add additional time to your commute. We thank you for your patience as we work to improve our service.
Public Involvement
On April 9, 2020, Caltrain held a Virtual Town Hall on the Hillsdale Station temporary closure. To view the archived event which includes the chat with questions and answers, click here.
Previously, Caltrain distributed a survey regarding the temporary Hillsdale Station closure to Hillsdale Station riders in July 2019. Approximately 1,000 survey responses were received (view results here). Feedback has also been received from neighborhood associations, office tenants, schools, project emails, public meetings, and the July 2019 virtual town hall.
Resources
FAQs and Maps
Presentations
Other Items
Renderings of New Station
1 / 6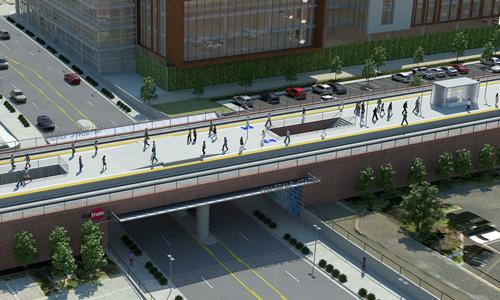 2 / 6
3 / 6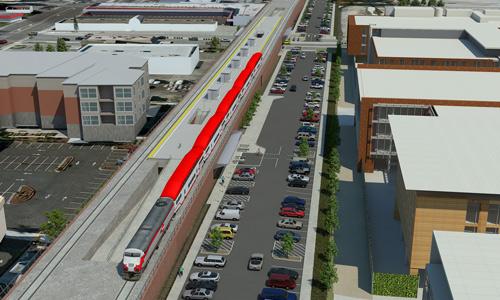 4 / 6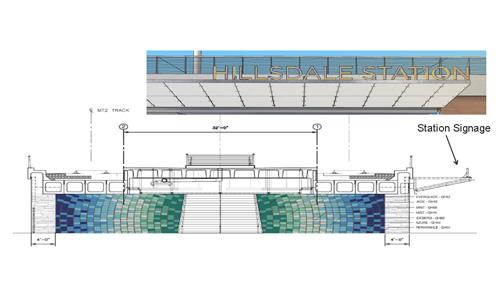 5 / 6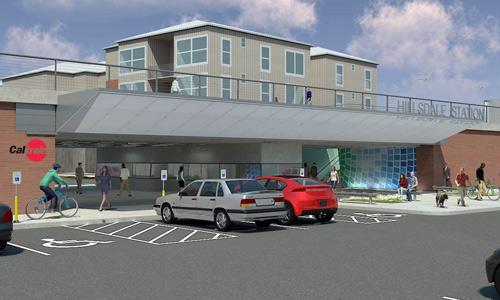 6 / 6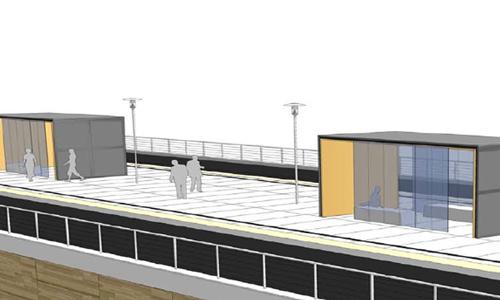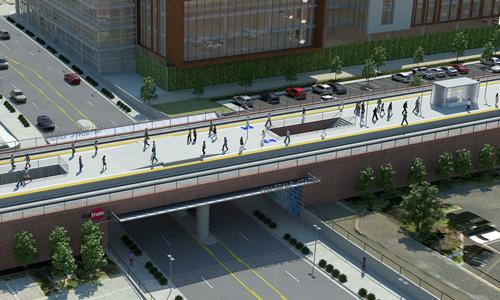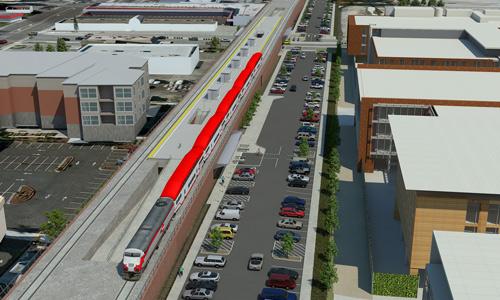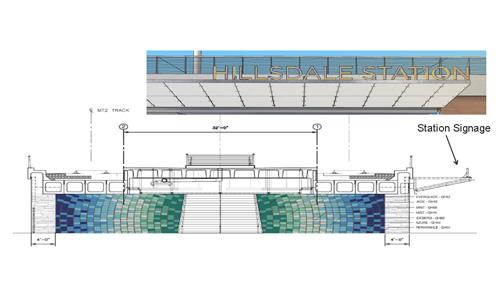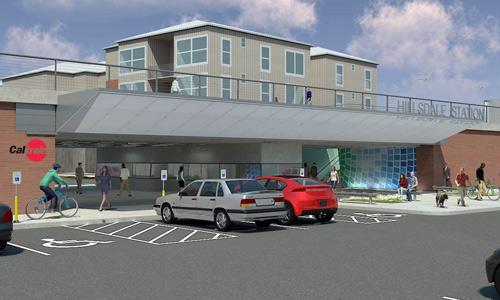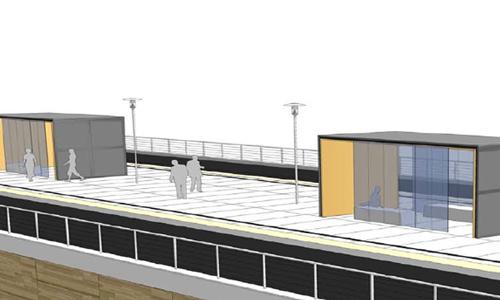 About the 25th Avenue Grade Separation Project
Caltrain is working closely with the City of San Mateo to deliver this important safety project. When complete, the tracks will be separate from the road at 25th Avenue reducing horn noise and improving traffic flow; there will be two new east-west connections at 28th and 31st Avenues; and a new Hillsdale Station with updated amenities will better serve the community. For more information or to sign up for project updates visit www.caltrain.com/25thGS.
Still have questions?
Please call Caltrain Customer Service at 1-800-660-4287 or emailconstruction@caltrain.com.