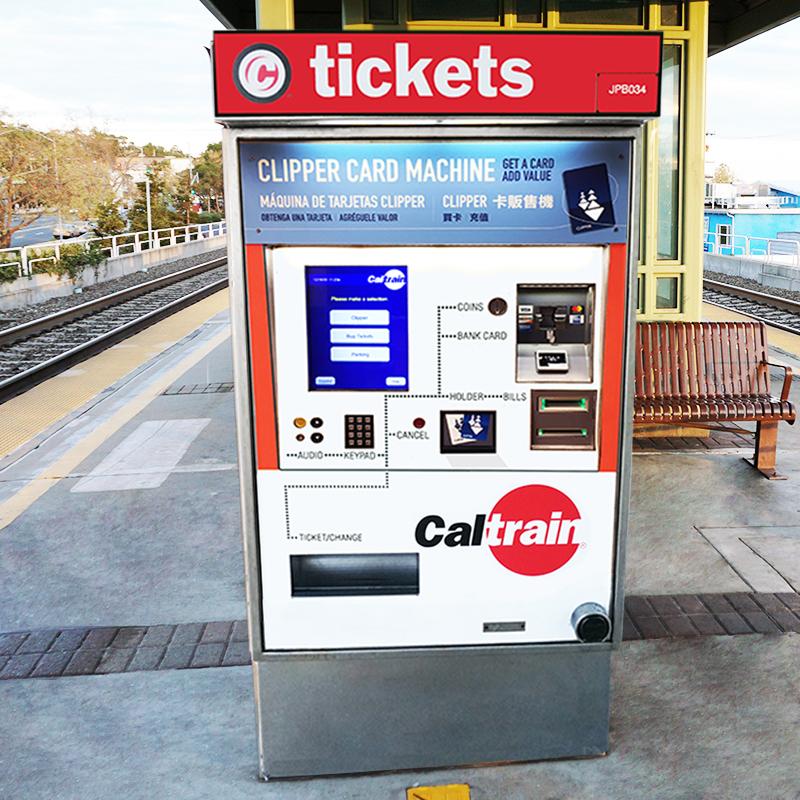 Caltrain offers several ways to purchase tickets, including our Ticket Machines located at every station. Passengers may also use the Caltrain Mobile app, or Clipper® to purchase tickets and passes.
Caltrain is a Proof-of-Payment system and tickets are not sold onboard trains. Passengers must have a valid ticket prior to boarding. Caltrain conductors and fare inspectors perform random fare checks onboard trains. Passengers without valid tickets are subject to a fine of up to $250 plus court fees.
How to purchase at new upgraded Caltrain Ticket Machines offering Adult Clipper Card Passes
Note: We are in the process of upgrading all machines. 
From Touch Screen Menu, Press Clipper.
To Add Cash Value or buy a Clipper Product, Place your Clipper card on the card holder on the front of the ticket machine, then select Products to add:

Cash Value
Caltrain Monthly Pass
Other Transit Agency - SamTrans, AC Transit, Muni or VTA

A New Clipper card can be purchased for $3

a. Select Purchase a New Clipper card, then select Products to add.

Make Selection
Press to Purchase
How to use the vintage Caltrain Ticket Machines
Select Ticket Type
Caltrain tickets available include Day Pass, One-way and Zone Upgrade for adults and Daily or Monthly Parking permits. To purchase a youth, senior, disabled or Medicare cardholder ticket, press the Eligible Discount button. [See Parking Section below for instructions on how to buy a parking permit.]
 
Select Destination
After choosing your ticket type, select your destination zone. You also may change your starting zone. A zone map is located directly above the visual screen.
 
Select Number of Tickets
To purchase one or more tickets, select the ticket type, then push the appropriate buttons to make your selections. The amount of your purchase will appear on the screen.
 
Purchase Tickets
At this time, you have the option to purchase different types of tickets by pushing the Additional Transactions button located on the bottom left of the screen. Up to four different ticket types can be purchased in a single transaction. The amount of your purchase is totaled after each selection. When you are ready to complete your transaction, push the Press to Purchase button.
 
Insert Cash or Credit Card

Cash: Insert cash (including coins) in the slots indicated. The machine accepts all bills up to $100 (with the exception of the $2 bill) and all coins, except pennies and 50-cent pieces. All change, including dollars, is given in coins. The machine can give up to $19.50 in change.
Credit or Debit Card: Insert card in the slot and follow the instructions on the menu screen. Ticket machines accept American Express, Discover, MasterCard and Visa.  They don't accept PIN-authorized debit cards. The machine prints the credit card receipt on the ticket.  Your tickets and change will fall into the Ticket/Change slot at the bottom of the machine. Notes: If the credit card function is unavailable, try another ticket machine or pay with cash.  Ticket machines don't accept Transit Benefit cards due to Internal Revenue Service law.  The Transit Benefit cards may be used at Caltrain headquarters.
Cancel your transaction at any time by pushing the red cancel button under the menu screen.
The ticket machines feature an audio system and are marked in braille. Raised dots lead to the slots to insert cash and credit/debit cards or retrieve tickets, change and receipt. Ticket machines are easily accessible and are available at all stations from San Francisco to Gilroy, except for the Stanford station where service is football game day only.
Purchasing Daily & Monthly Parking
Customers with a valid Monthly Pass loaded on their Clipper® card can purchase one Monthly Parking Permit per month at Caltrain station ticket machines by entering their unique 10-digit Clipper card number, located on the lower-left back of the card. Monthly Parking permits may be purchased between the 21st of the month prior to the month that the permit is valid until the 15th of the month that the permit is valid. Customers with Go passes must apply for an access code.
A Daily Parking ticket may be purchased by selecting Daily Parking on the ticket machine menu screen.
After parking, take note of your parking stall number and then follow these procedures:
Go to the ticket machine on the platform or in the station.
Select Daily Parking. When prompted, type in your parking stall number. Insert cash or credit card.
Take your receipt from the bottom tray of the ticket machine.
Additional parking information is available at https://www.caltrain.com/rider-information/parking.