It's BACK! Don't bother driving to the race!
Take Caltrain to the 2022 Zappos Bay to Breakers  footrace on Sunday, May 15 starting at 8 a.m.
There will be two, special limited-stop pre-race trains to San Francisco that will arrive before the start. See schedule below.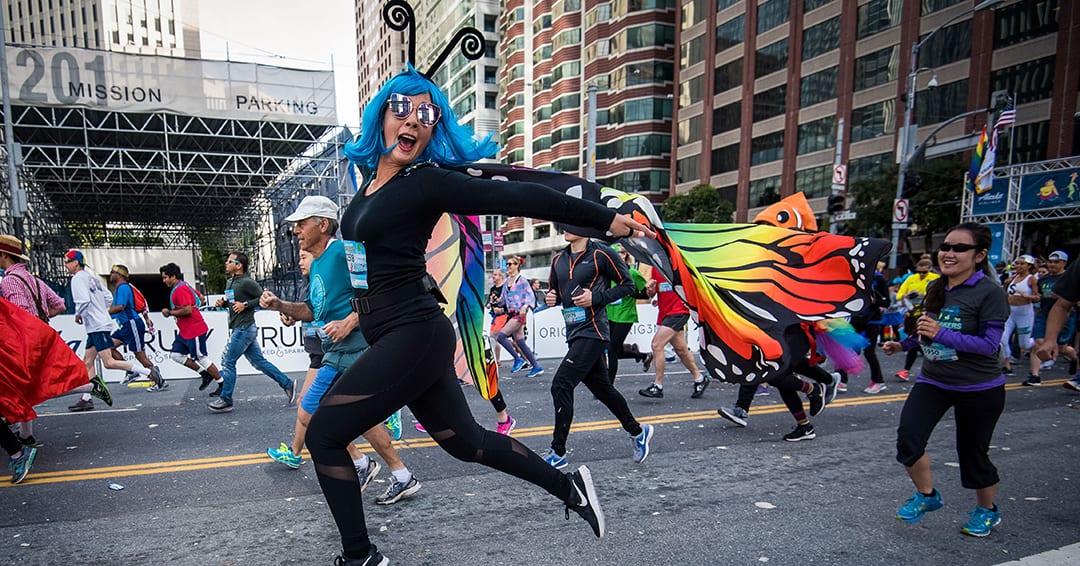 Nobody likes long ticket lines so early in the morning!
Think ahead, Caltrain heavily encourages you to pre-purchase a Bay to Breakers Ticket on May 7  by downloading the Caltrain Mobile Ticket App. 
The Bay to Breakers Mobile ticket must be activated the morning before you board the train. Regular Caltrain tickets can also be purchased from any station ticket machines race morning. Expect long lines the morning of the race and give yourself plenty of time by getting to the station early. Daily Parking must be purchased through the ticket machine or on the Caltrain Mobile Ticketing App (Remember your space number). Staff will be at San Jose Diridon and Palo Alto early to assist customers. 
NOTE: Northbound Trains 601 and 603  at California Ave. and Palo Alto will depart from southbound track (opposite platform). Check station Visual Messaging Boards for platform boarding information.
Clipper Reminders: Customers with Clipper® cards must tag on and tag off. Clipper card holders with a Monthly Pass can travel for free through all zones on weekends. 
Alcohol is prohibited on the special trains dedicated for Bay to Breakers.

Caltrain is a proof-of-payment system. Customers must have a valid paper, Clipper card or mobile ticket before boarding. Those without a valid ticket are subject to citation and/or ejection from the train. 

The starting line is about 1.4 miles from the San Francisco Caltrain Station at Fourth and King streets. Participants can walk to the starting line or take the early morning KT Ingleside-Third Outbound light rail located on 4th and King St.

Caltrain would like to remind customers that Bay to Breakers does not allow alcohol and floats.
Bay to Breakers Northbound Special Train Service
Special Trains

Zones

Station
Train Number
601
603
4
San Jose Diridon
5:50 AM
6:02 AM
Santa Clara
-
-
Lawrence
-
6:14 AM
Sunnyvale
-
6:18 AM
Mountain View
-
6:23 AM
San Antonio
-
6:26 AM
3
California Ave
-
6:30 AM
Palo Alto
6:12 AM
-
Menlo Park
6:27 AM
6:37 AM
Redwood City
6:33 AM
6:43 AM
San Carlos
6:37 AM
6:47 AM
Belmont
6:40 AM
6:50 AM
Hillsdale
6:43 AM
6:53 AM
2
Hayward Park
6:46 AM
6:56 AM
San Mateo
6:50 AM
6:59 AM
Burlingame
-
7:02 AM
Broadway*
-
7:05 AM
Millbrae
6:57 AM
7:09 AM
San Bruno
-
7:14 AM
South San Francisco
-
7:18 AM
1
Bayshore
-
-
San Francisco
7:17 AM
7:30 AM
Special trains will depart and pick up passengers only from the above listed stations. Regular Sunday northbound service departs San Jose Diridon at 7:19 a.m.
Post-Race Service:

After the race, Caltrain will provide extra capacity to accommodate the anticipated larger crowds.
Legend
6
Special Train
-
Train bypasses station
*
Station not wheelchair accessible
Schedule subject to change without notice