Over 50 of the Caltrain system's most influential stakeholders and decision makers participated in a recent workshop to help inform development of the Caltrain Business Plan, a plan that will define the long-term vision for the fast-growing commuter rail system that connects San Francisco and Silicon Valley.
Work on the Caltrain Business Plan began last year after the agency awarded contracts for construction of the Caltrain Electrification project, a project that will allow the system to replace decades-old diesel equipment with modernized electric trains. When complete, Caltrain Electrification will immediately improve the system's capacity, service frequency and travel times, but additional work will be needed to fully realize the benefits that electrification makes possible.
The Caltrain Business Plan will evaluate how the Caltrain system should evolve, expand, and integrate with other transportation systems to accommodate continued job and population growth in the region. It will also define the infrastructure needed to support expanded service and will assess options for prioritizing and funding those improvements. The plan will consider long-term governance, management, and commercial strategies as well, to ensure that the agency is prepared to implement the plan and is structured in a way that reflects the long-term vision for integrated and expanded services within the existing corridor and potentially beyond.
"We are very excited to be involved in the Caltrain Business Plan process and it is really important that we get this right," said Michael Cunningham, who participated in the workshop and has been working to improve Caltrain for years in his role as Senior Vice President of Public Policy for the Bay Area Council. "Caltrain is more important to the region than it ever has been, and so is the need to expand mobility options and address regional traffic congestion. With Caltrain poised to be a critical part of the regional solution to these issues, now is the time to be thinking about the best way to maximize the potential of the corridor."
Today, Caltrain operates 92 weekday trains, serving 29 stations, with the fastest, most frequent service focused during peak commute hours when many trains are over 125 percent capacity. The addition of electric trains will make it possible to serve Caltrain's existing stations with faster, more frequent service, but it also makes it possible to extend the service to the new Transbay Transit Center in downtown San Francisco and to integrate with the statewide high-speed rail system that is currently under construction in the Central Valley.
Recent plans have also been developed to extend rail service across the bay on the Dumbarton rail bridge, connecting the Caltrain main line to BART, ACE and Capitol Corridor systems in the East Bay. BART and High-Speed Rail are also planned to connect to Caltrain in San Jose at the Diridon Station, which is already a hub connecting Caltrain, VTA, Capitol Corridor and the Altamont Corridor Express (ACE).
These opportunities to evolve and improve rail connectivity in the Bay Area will be considered in the soon-to-be-released California State Rail Plan. "We're very glad that Caltrain is moving forward with development of the Caltrain Business Plan and is involving such a broad group of collaborators in the process," said Chad Edison, Deputy Secretary at the California State Transportation Agency, and a participant in the Caltrain Business Plan workshop. "We look forward to continued collaboration with Caltrain as we work together to improve rail connectivity in California."
The Diridon Station area is also being prioritized for rapid urban transformation. Google has coordinated the acquisition of several properties in the area in preparation for the creation of a new transit village that could include 6 million to 8 million square feet of retail and employ as many as 20,000 employees. A similar development boom has been happening in San Francisco to the east of the Caltrain corridor as development in the Mission Bay has provided new office space and created desperately needed housing in response to continued job and population growth.
"We're talking about some of the best opportunities we have to respond to the pressures of regional growth in a smart way," said another Caltrain Business Plan workshop participant, Ratna Amin, Senior Director of Transportation Policy at SPUR, which recently released a vision for increased Caltrain service and connectivity on the corridor. "Cities are starting to explore other opportunities like this along the Caltrain corridor, but transit connectivity and traffic congestion will be limiting factors unless we can identify strategies for sustained increases in Caltrain service throughout the Peninsula. We're very excited about the Caltrain Business Plan's potential for fostering that kind of consensus around these ideas."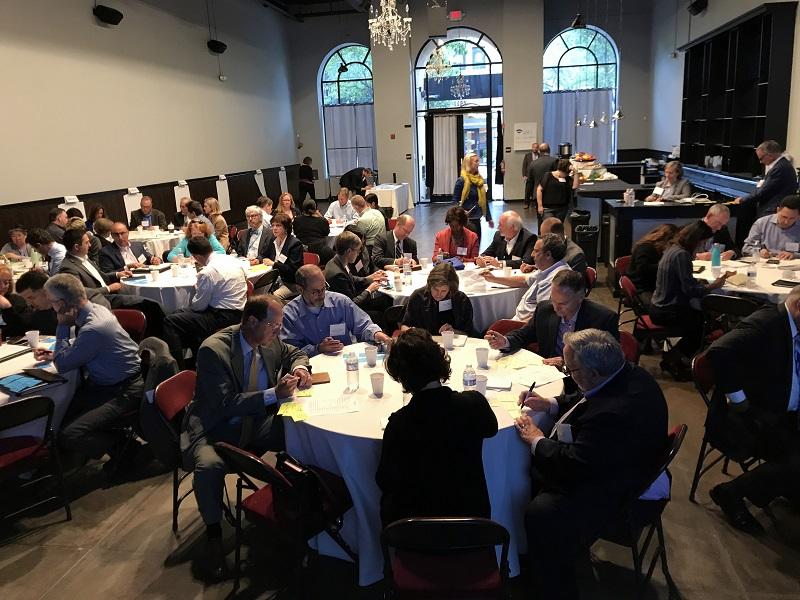 Caltrain staff has provided the Peninsula Corridor Joint Powers Board, which governs Caltrain, with regular updates over the last eight months as the Business Plan's scope has been developed and the agency has secured cooperation from public and private sector rail and infrastructure experts to help guide the process. The recent workshop was important to gauge how well Caltrain's ideas for what the Business Plan will assess match up with the priorities that other regional stakeholders have for the system. As progress is made on these ideas and concepts, the public will be invited to participate in the process and provide feedback.
"I was very encouraged to hear that in a room full of over 50 of the most knowledgeable minds we have about Caltrain and how it is positioned to be a regional solutions provider, there was fairly good consensus about the goals and the challenges we will need to overcome," said Caltrain Chair Jeff Gee, who is also a Redwood City Council Member. "The fact that this is called a 'business plan' is already an acknowledgement that financial resources will be one of those challenges. It isn't enough to develop a smart plan that provides a road map for how to build a better Caltrain system. We also need to have a strategy that covers the cost of building it, operating it and maintaining it in a more reliable way."
Brian Shaw, Chair of the Caltrain Citizen's Advisory Committee and Executive Director of Stanford University's Department of Parking and Transportation Services echoed that stakeholder engagement on the Business Plan is off to a good start. "The challenges can seem daunting, but the workshop showed that when we start talking in detail about what we all want out of the system and what the Business Plan should be focused on, there is a lot of common ground to be found. I'm glad to see that even with so many decision makers involved, we can agree to put our trust in this process and the Caltrain management to create a vision we can all get behind."
###
About Caltrain: Owned and operated by the Peninsula Corridor Joint Powers Board, Caltrain provides commuter rail service from San Francisco to San Jose, with limited commute service to Gilroy. Caltrain enjoyed five years of consecutive monthly ridership increases, surpassing more than 65,000 average weekday riders earlier this year. While the Joint Powers Board assumed operating responsibilities for the service in 1992, the railroad celebrated 150 years of continuous passenger service in 2014. Planning for the next 150 years of Peninsula rail service, Caltrain is on pace to electrify the system, reduce diesel emissions by 97 percent by 2040 and add more service to more stations.
Like us on Facebook at: www.facebook.com/caltrain and follow us on Twitter @Caltrain
Free translation assistance is available. Para traducción llama al 1.800.660.4287; 如需翻譯,請電 1.800.660.4287.